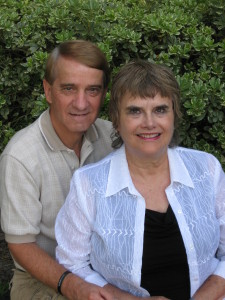 Robert and Verna have been members of Wycliffe Bible Translators, Wycliffe Canada, Wycliffe USA and SIL International since 1983. They served the SIL – Papua New Guinea Branch in PNG from January 1984 to June 1995 as accountant, teacher, computer operator, and as Bible Translators. Since returning to the US in 1995, they have been involved in developing exegetical and computerized tools for Bible translators at the International Linguistics Center in Dallas, Texas.
Currently, Robert is editing the Exegetical Series for the Old Testament. He has finished An Exegetical Summary of Acts 1-14 and  An Exegetical Summary of Acts 15-28 and they are available of Amazon as Print-on-Demand books. Previously, he authored An Exegetical Summary of Galatians. He has also worked as an editor for the Translator's Notes Series. Verna is the International SIL Coordinator for Dictionary & Lexicography Services.
Verna oversees the Rapid Word Collection strategy which employs a systematic method to capture words in a workshop setting organized in the language community. She is also tasked with promoting the publication of multi-lingual dictionaries, primarily online at Webonary.org. In the past few years, she has been creating online courses in Dictionary-Making and Lexicography.
Robert and Verna have two grown sons. Jason is married to Anna. They have three sons and reside in Greenville, TX. Jeremy is a former member of the US Marine Corps and resides in California.
Robert was born in Goshen, Indiana to Raymond and Katie Stutzman. He was the youngest of six children; he has three brothers and two sisters. He attended Milford Elementary School and Middle School. In ninth grade he switched to Bethany Christian High School in Goshen. Robert received his Bachelor of Science Degree in 1971 from Indiana University, South Bend, graduating with an Accounting major. He worked at Mishewaka Trailer supply and Steury's Boat Manufacturing companies as an accountant.
Verna was born in Steinbach, Manitoba to Bernhard and Lillie Penner. She has one sister, who is eleven years younger. Verna attended Greenland North School during her elementary school years. She graduated from Landmark High School in 1966. Verna attended the University of Manitoba (U of M) in 1968-69, receiving her Manitoba Elementary School teaching certificate. She taught at Southwood Elementary School in Steinbach for two years. She returned to the U of M for another year of College.
Robert and Verna met in 1972 and married in May 1973, settling in the Goshen area. Jason was born in April 1975. In the summer of 1975, they moved to Manitoba, Canada, which was Verna's home area. Here Robert became the Director of Accounting at the Bethesda Hospital in Steinbach, Manitoba. He held this position for four years. After they moved back to Manitoba in 1975, Verna returned to the U of M part-time and graduated with her Bachelor of Arts degree in 1977. In 1979, they adopted Jeremy.
In 1979, they moved to Tulsa, Oklahoma, where Robert attended Rhema Bible Training Center for one year. After Bible School, they moved to Edmonton, Alberta, where Robert took a job with the Alberta Government as an Accountant and Verna took a job with The University of Alberta as an Applications Analyst.
Since joining Wycliffe in 1983, both Robert and Verna studied Linguistics at SIL International and Verna completed her Master's degree in Linguistics in 1997 from the University of Manitoba in Winnipeg, Canada and her Master's degree in Counseling in 2005 from Dallas Baptist University in Dallas, Texas.
Wycliffe personnel are not salaried, so the Stutzmans look to their Heavenly Father to provide sponsors in the church community to meet their living and ministry expenses.